By: Judy Borcherdt, RN, BSN, CWCMS and Linsee Nungester, LPN, Principle Business Enterprises
Average time to read: 5 minutes
As a leader in incontinence management for the past 4 decades, we have witnessed tremendous change across many areas of the healthcare industry. In the midst of the most uncertain pandemic in modern history, and with communicable disease season on the horizon, the need for improved patient care, particularly regarding infection prevention (IP), is imperative.
Through our years of consulting in a variety of health care organizations, we have learned that incontinence care is often overlooked as a component of IP; specifically, how incontinence care is administered and what incontinence management solutions are used.
Infection Prevention: A Top Priority
Now, more than ever, infection prevention (IP) is a top priority across the healthcare spectrum. The Center for Disease Control (CDC) recognizes the practice of infection control as preventing or stopping the spread of infections in healthcare settings. Related, but slightly different than IP is healthcare acquired infections (HAI). The primary difference between IP and HAI is that IP focuses on the spread of infectious between healthcare patients, whereas HAI are infections associates with medical procedures or devices.
Incontinence care is important to both IP and HAI. In this article, the focus is on how improved incontinence care can reduce the risk of communicable infections and improve healthcare facilities IP practices. Look for another piece soon regarding incontinence care and HAI.
Historically, the patterns of heightened awareness around infection prevention (IP) best practices were driven by current or previous infectious disease outbreaks. For example, the HIV epidemic brought radical improvements to glove and syringe standards, many of which are still followed to this day. As the COVID-19 pandemic evolves, we see the necessity for the infection prevention standards to be raised, yet again.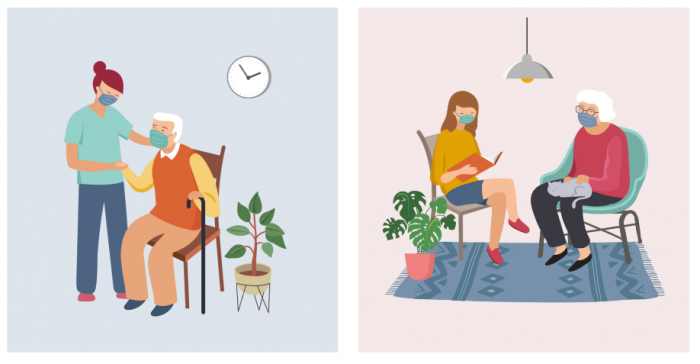 Healthcare facilities play a crucial role in both containment, treatment, and prevention of further spread of COVID-19 and other communicable diseases. For providers and healthcare professionals, IP is now a daily focus and the way in which care is being provided has changed, possibly forever. While managing IP during the COVID-19 pandemic has proven to be more complicated than anticipated, it has forced healthcare providers to take a deep look into best practices and preparedness policies. While face coverings, hand washing, and isolation protocols are the first line of defense against infection prevention, we must also consider the additional modes of transmission. The spread of disease through bodily fluids and person to person contact, specifically care provider exposure time to patients, are also critical to IP.
Have you considered how your incontinence care practices impact the health of your patients and care providers?
Incontinence Care Practices and The Impact on IP
The upcoming flu season coupled with the challenges of COVID-19 has forced us to consider how incontinence care practices can reduce communicable infections and improve healthcare facilities' IP practices. We identify two important areas where incontinence impacts IP:
Caregiver Exposure Time to Patients
Containment of Bodily Fluids
Let's explore how superabsorbent products can address these areas and minimize the spread of communicable diseases like COVID-19 or the seasonal flu.
Superabsorbent Products Reduce Exposure Time
During this heightened time of concern surrounding COVID-19 and the upcoming flu season, the most important consideration surrounding incontinence and infection prevention is reduced exposure time between potentially infected patients as well as care providers. Since social distancing cannot always be followed when providing care, considering the amount of time healthcare providers are potentially exposed during patient care is critical. In many healthcare settings, incontinence care requires a significant time and labor investment. Each time a care provider changes a patient's incontinence product (on average every 2 hours), they put themselves at an increased risk for direct exposure, especially during this season of COVID-19. As care providers continue to see additional patients and interact with coworkers, there can be a great risk for facility outbreaks.
We've seen that advancements in incontinence management products can lengthen the wear time for patients and reduce labor for caregivers by decreasing the total number of daily changes. These technology advancements of increased absorbency and extended wear times also decrease overall product usage and cost within the facility. Reducing the number of daily changes required for patients is one way to decrease exposure risk and labor demands for your care providers.
Importance of Containment
An alternative incontinence management practice in healthcare facilities is the use of "open-air" to manage urinary or fecal incontinence. "Open-air" is a practice where incontinent patients are left without a brief or pull-up style product to contain their urine or fecal matter, and instead use a bed pad to manage incontinence episodes.
While "letting the skin breath" may have certain clinical benefits, it is a questionable practice during this time of heightened infection prevention concerns. First, the "open-air" practice poses a significant concern for affecting the patient's dignity and quality of life. Open-air may be a preferred option for the healthcare professional but is generally not the preference for the incontinent patient receiving care.
Another concern with the practice of "open-air" for incontinence management is the risk for splash and spray episodes. Containing bodily fluids, such as feces and urine, in a superabsorbent product, such pull-ons or tape-tab style briefs, can be key to preventing the spread of infectious disease. Containment of bodily fluids is not considered a significant mode of transmission and must be a component of incontinence management.
Additionally, contrary to the "open-air" practice, skin health can be maintained and even improved with the right superabsorbent incontinence product. An absorbent brief or pull-on style product that is designed to neutralize the pH of urine and feces will improve skin integrity and foster an environment for advanced wound healing.
Tranquility Products Can Improve IP Practices
It is important for healthcare facilities and providers to consider incontinence care as part of their infectious control preparedness planning. Amid the COVID-19 pandemic and beyond, Tranquility® products can improve IP practices by improving incontinence care, reducing caregiver exposure time, and containing bodily fluids,
Tranquility products are designed with superabsorbent polymers, which have been shown to increase wear times and thus reduce exposure time, lesson care provider workloads, and reduce product usage and waste. Additionally, Tranquility products improve skin integrity by quickly absorbing and locking in liquid and neutralizing the pH of urine and feces.
Click here
to see our full line of Tranquility products!